US President Joe Biden told dozens of African leaders gathered in Washington that the United States is "all in on Africa's future".
President Joe Biden called on Wednesday, December 14, for a long-term partnership with Africa rooted both in trade and good governance as US businesses unveiled billions of dollars for the continent where China has become a top player.
Addressing a summit that brought 49 African leaders to the Washington, Biden avoided uttering China's name but made clear the United States would take a different approach. At the first such gathering since Barack Obama invited African leaders in 2014, Biden said the United States sought "partnerships – not to create political obligation, to foster dependence, but to spur shared success and opportunity." "When Africa succeeds, the United States succeeds. The whole world succeed.
The Biden administration is laying out more than $55 billion in support over the three-day summit and on Wednesday welcomed US and African businesses, which promised more than $15 billion in trade deals. In an implicit contrast with China, which takes a hands-off approach in countries where it invests, Biden told the leaders that good governance was critical to trade.
The President highlighted "the core values that unite our people – all our people, especially young people: freedom, opportunity, transparency, good governance." "Africa's economic transition depends on good government, healthy populations and reliable and affordable energy," he said.
Biden announced a $100 million aid package for clean energy and the White House announced another $800 million in public and private financing for digital development in Africa. China in the past decade has surpassed the United States on investing in Africa, mostly through highly visible infrastructure projects, often funded through loans that have total-ed more than $120 billion since the start of the century.
This was about President Biden trying to win back influence in Africa with personal diplomacy as well as by promising billions of dollars of funding in key sectors and rallying private sector investments.
The subtext was that America was trying to catch up with other countries, including Russia and especially China, that have developed stronger ties with the continent.
But the message was that the US wanted a strategic relationship with Africa, which has become a key geopolitical player with some of the fastest growing economies in the world.
The summit will have been successful for the Americans if they can demonstrate that Africa is more than a battleground for competition with Beijing and Moscow. They want to show that they can be better partners than China or Russia.
But following up and sustaining engagement will be crucial to proving US commitment and for that the White House appointed a special envoy.
National Security Council spokesman John Kirby said the administration is "refusing to put a gun" to Africa's head and make it choose between U.S. and China. At the same time, he said "there's nothing inconsistent about calling a fact a fact and shedding light on what is increasingly obvious to our African partners about China's malign influence on the continent."
Still, the summit-related activity got a rise out of China. Foreign Ministry spokesperson Wang Wenbin said the U.S. should "respect the will of the African people and take concrete actions to help Africa's development, instead of unremittingly smearing and attacking other countries."
Wang said at a briefing Wednesday that it is the "common responsibility of the international community to support Africa's development." But he added: "Africa is not an arena for great power confrontation or a target for arbitrary pressure by certain countries or individuals."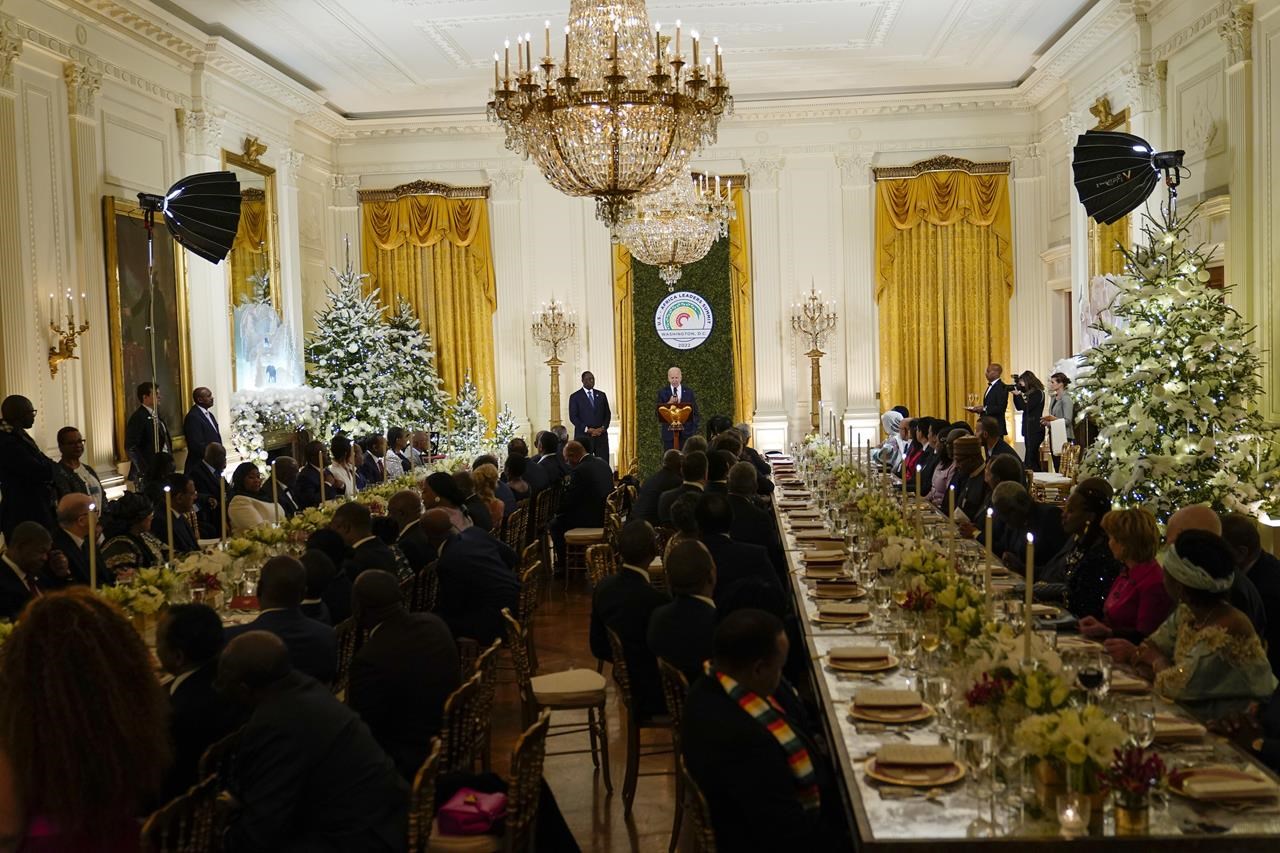 Defence Secretary Lloyd Austin on Tuesday warned African leaders that both China as well as Russia were "destabilizing" the continent, saying Beijing's mega-contracts lacked transparency.
In one of its biggest corporate announcements, credit card leader Visa said it would pump $1 billion into Africa to develop digital payments – an area in which China has emerged as a global leader. Cisco and partner Cybastion said they would commit $858 million to bolster cybersecurity through 10 contracts across Africa, addressing a vulnerability that has held up online development.
The ABD Group said it would commit $500 million starting in Ivory Coast to adopt cloud technology through data centers that can work with major US technology firms. Technology leader Microsoft said it would employ satellites to bring internet access to some 10 million people, half of them in Africa, hoping to bridge a digital divide that has held back the continent.